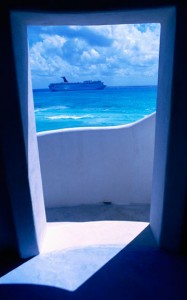 Smooth-sailing with your Inogen One.
Using your Inogen One on a cruise ship is as convenient as using it at home. In your cabin, simply plug your Inogen One into an AC electrical outlet just as you would at home.
Use battery power for ship activities outside your cabin. Be sure and keep enough batteries charged to provide power for the duration of your shipboard activities.
Most cruise ships offer AC electrical outlets throughout the ship. To conserve battery power, you may wish to locate an AC electrical outlet in the dining and recreational areas of the ship. If you transport your Inogen One in the convenient carry bag, you can use the pockets on the bag to carry your AC Power Supply or extra battery. The Inogen One Cart enables you to easily transport your Inogen One as you move about the ship.
Get to the seaport early. Seaport security personnel may require extra time to inspect your Inogen One during the security screening process.