As temperatures soar around the country, there's no better time to stock up on fresh summer produce and other wholesome, in-season foods to include in your COPD diet. Experts agree that a high consumption of fruits and vegetables is associated with a reduced risk of many chronic (ongoing) illnesses, including COPD.[1] What's more, a healthy diet that includes fish, fruit and dairy products is associated with improved lung function, less emphysema, improved six-minute walk scores and lower St. George Respiratory Questionnaire (SGRQ) scores.[2] Which foods should you concentrate on? Check out the following: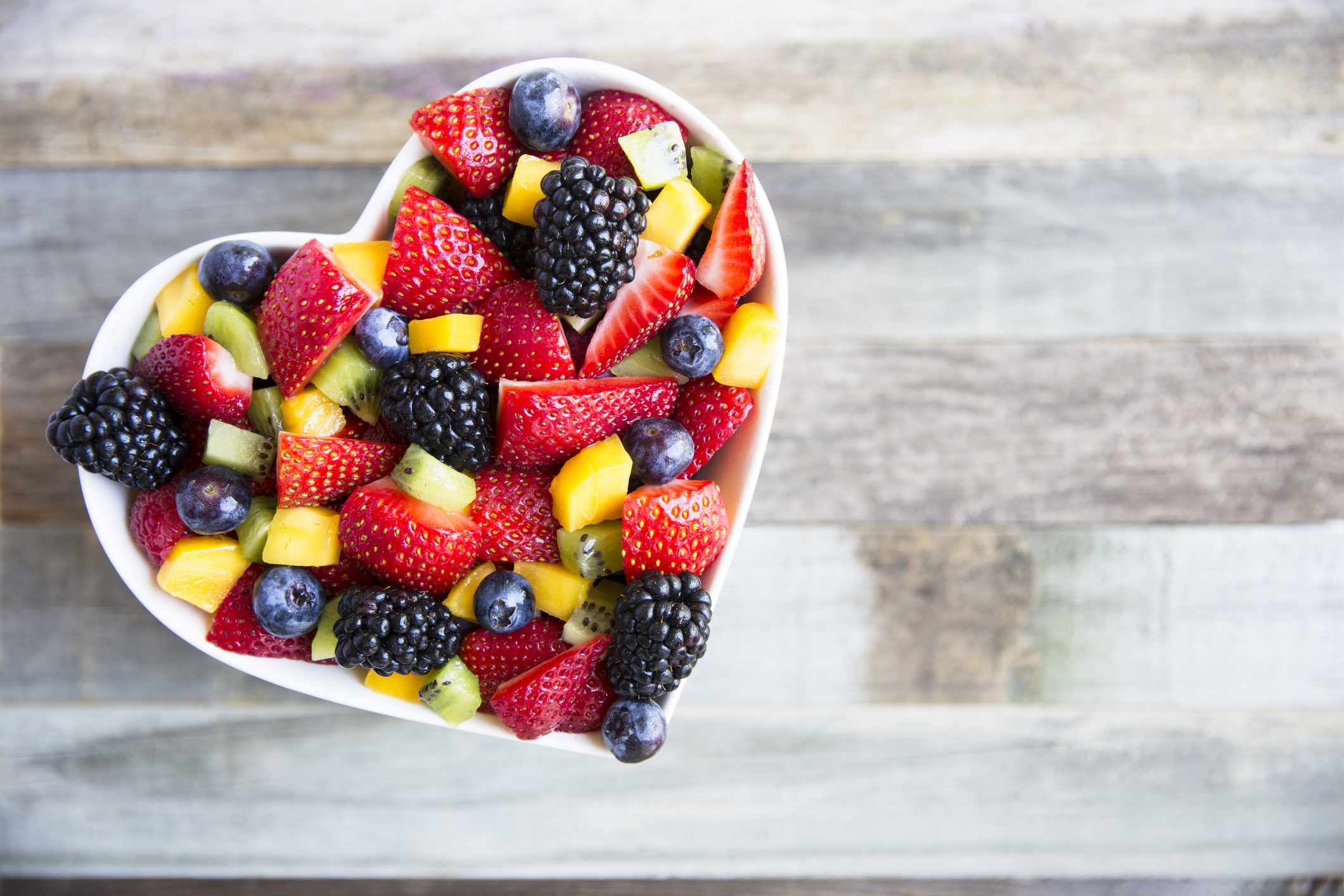 Bring on the brightly colored vegetables like broccoli, carrots, tomatoes, leafy greens (if not on blood thinners) sweet potatoes and Brussel sprouts as they may play a role in protecting your health. What's color got to do with it? Bright colored vegetables (and fruit too) are loaded with phytochemicals, nutrient-rich plant compounds that neutralize free radicals which can damage your cells and tissues and lead to chronic illness.[3] For best results, try mixing them up in a refreshing summer salad like this oil-free Raw Veggie Chopped Salad from Vegie Inspired.
Branch out with brightly colored fruits, particularly those high in antioxidants like apples, berries, cherries and citrus fruits as they have been linked to a lowered risk of COPD. In fact, one study found that increasing your consumption of fruits by 100 grams (approximately one serving) a day lowered COPD risk by 24 percent.[4] Looking for a great summer fruit salad recipe? Check out this Minted Summer Fruit Salad with Balsamic Maple Dressing from Vegan Vigilante.
Don't omit omega-3's as they may protect the lungs from chronic inflammation (linked to many chronic diseases) thus shielding them from the harmful effects of smoking. Omega-3 fatty acids are found in fatty fish (tuna, salmon, herring, mackerel), cooking oils (canola, flaxseed, soybean), nuts (walnuts, butternuts), flaxseed and soybeans. Ready to beef up your intake of omega-3's? Consider this Summer Salmon Nicoise Salad from Cooking Light, the best way to cook when the heat is on in the kitchen.
Dip into dairy by indulging in this Strawberry Ice Cream Shake from BBC Good Food. If you decide to make this decadent summer shake, be sure to substitute regular milk with low or non-fat and strawberry ice cream with low-fat strawberry yogurt. Why? Low-fat dairy intake included in a COPD diet is modestly associated with higher FEV1, FVC and FEV1/FVC.[5] If dairy products cause you to produce thicker mucus, you may want to avoid them.
Keep it simple with soy found in foods like tofu and soy bean sprouts as studies have discovered that increasing soy consumption is associated with a decreased risk of COPD and breathlessness.[6] Looking for a great soy recipe? Try this Simple Southwest Tofu Scramble from Minimalist Baker.
For more information about foods to include in a healthy, COPD diet, consult a nutritionist who specializes in COPD.
[1] Kaluza J, Larsson SC, Orsini N, et al. Fruit and vegetable consumption and risk of COPD: a prospective cohort study of men Thorax. Published Online First: 22 February 2017. doi: 10.1136/thoraxjnl-2015-207851.
[2] Corrine Hanson , , Harlan Sayles , Erica Rutten , Emiel F.M. Wouters , William MacNee , Peter M. Calverley ,Stephen I. Rennard. American Journal of Respiratory and Critical Care Medicine 2014;189:A5949.
[3] Rui Hai Liu. Health benefits of fruit and vegetables are from additive and synergistic combinations of phytochemicals. Am J Clin Nutr September 2003. vol. 78 no. 3 517S-520S.
[4] Boeing, H., Bechthold, A., Bub, A., Ellinger, S., Haller, D., Kroke, A., … Watzl, B. (2012). Critical review: vegetables and fruit in the prevention of chronic    diseases. European Journal of Nutrition, 51(6), 637–663. http://doi.org/10.1007/s00394-012-0380-y.
[5] Jiang, R., Jacobs, D. R., He, K., Hoffman, E., Hankinson, J., Nettleton, J. A., & Barr, R. G. (2010). Associations of dairy intake with CT lung density and lung function. Journal of the American College of Nutrition, 29(5), 494–502.
[6] Hirayama F, et. al. Soy consumption and risk of COPD and respiratory symptoms: a case-control study in Japan. Respir Res. 2009 Jun 26;10:56. doi: 10.1186/1465-9921-10-56.