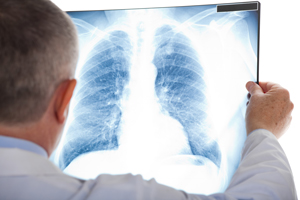 If you have COPD, you may be wondering when to see a pulmonary specialist. Because a pulmonary specialist, or pulmonologist, specializes in diseases of the lungs and bronchial tubes, adding one to your repertoire of health care providers is something you may want to consider. But should you consult with a pulmonary specialist at the onset of your symptoms? Or should you wait to see a pulmonary specialist after you're diagnosed?
What is a Pulmonologist?
A pulmonologist is a medical doctor that has specialized knowledge and skill in the diagnosis and treatment of conditions and diseases of the lungs. Pulmonology is considered a subspecialty of internal medicine. In order for a physician to become a pulmonologist, they must have graduated from an approved medical school. They must have completed an internal medicine residency program which takes a minimum of 3 years in which they will have treated patients with a wide range of illnesses and medical conditions. They must then take and pass a certification examination administered by the Board of Internal Medicine. But this is not all. In the final stages of their training, they must complete a 2-year minimum pulmonary fellowship, during which time they will learn the symptoms and treatment of minor and major respiratory conditions from asthma, pneumonia and tuberculosis to COPD, interstitial lung disease and cystic fibrosis. At the end of the fellowship, the pulmonologist must pass a second set of board certification examinations in their specialty.
The Role of the Primary Care Provider in COPD
Although there are many different specialists that can make up a COPD treatment team, as long as your COPD is uncomplicated, most of your treatment can come from your primary care provider. Primary care providers play a critical role in the screening, diagnosis and treatment of COPD. They are usually the ones who end up catching COPD early, even before symptoms begin, by screening smokers using a simple breathing test known as spirometry.
Your primary care provider can also prescribe all of your COPD medications for you, including inhalers, steroids, oxygen and antibiotics. So if your primary care provider can treat your COPD effectively, when should you see a pulmonary specialist?
The Role of the Pulmonologist in COPD
Seeing a pulmonologist may be necessary if you have a more complicated case of COPD. For example, your primary care provider may refer you to a pulmonologist if you're not responding well to COPD treatment, you're hospitalized for COPD exacerbation or your disease has reached a more advanced stage of COPD.
A pulmonologist may order a different combination of medications or special treatments for you. To better-assess your condition or implement diagnostic studies, they can also perform a bronchoscopy using a flexible scope to look down your airway and inside your lungs. A pulmonologist may also have a staff that is very much geared for the lung patient that a primary care provider may not have or be able to afford in their office. A pulmonologist may also be used to reinforce what the primary care provider has already initiated, especially the importance of smoking cessation in a patient who continues to smoke.
What if I Can't Get a Referral to a Pulmonologist?
You don't have to wait for your primary care provider to refer you to a pulmonary specialist. If you feel you need one, you can self-refer, if you have PPO insurance, or you can request a referral from your primary care provider. If your primary care provider doesn't want to give you a referral, speak to your health insurance company as it is within your rights to see a specialist if you have reason to believe you need one.
By Deborah Leader RN, BSN, PHN