0 Comments | May 12, 2016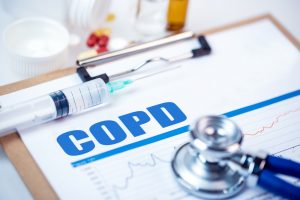 Do I have COPD? This is a question many people may ask themselves after years of smoking or exposure to other types of airway irritants. Although a person can have COPD for many years without noticing symptoms, there are certain factors that can increase the risk of developing the disease.
Smoking – cigarette smoking is by far the single most important risk factor for COPD. In fact, approximately 80% of all people with COPD are current or former smokers.[1]
The Environment – did you know the environment in which you work or live may be an important risk factor for COPD? The American Thoracic Society states that approximately 15% of all COPD cases are work-related.[2] Furthermore, indoor and outdoor air pollution may also play a role in the development of COPD, especially if the exposure is long-term and [3]
Genetics – your genes play an important role in the development of COPD, a relationship most evident in a condition known as alpha-1-antitrypsin (AAT) deficiency. People with AAT deficiency have a decreased amount of AAT, a protective protein made by the liver. This places them at a greater risk for developing emphysema.[4]
Asthma – according to an Australian research study, children with asthma have more than 30 times the risk of developing COPD as adults compared to children without asthma.[5]
Childhood lung infections – early childhood lung infections have been associated with decreased lung function and increased respiratory symptoms in adulthood which may be linked to the development of COPD in later life.[6]
Oxidative stress – occurs when there's an imbalance between the production of free radicals and antioxidant defenses (usually from smoking). Oxidative stress is now recognized as being a major predisposing factor in the development of COPD.[7]
If you have any of the following symptoms, you may be at risk for COPD, especially if you're a current or former smoker or you've been exposed on a long-term basis to indoor or outdoor air pollution:
Shortness of breath that worsens with activity and progresses over time
Long-term cough with or without sputum (mucus) production
Wheezing
Fatigue
Most people with COPD don't seek treatment until they reach the more advanced states of the disease. Early recognition of symptoms can lead to earlier diagnosis and treatment, which can greatly improve your quality of life with COPD.
Testing for COPD
Spirometry is a simple breathing test used to diagnose COPD. The test can be performed at your doctor's office or your local hospital or clinic. According to the COPD Foundation, anyone with the aforementioned symptoms with a history of exposure to airway irritants (smoking, secondhand smoke, air pollution, workplace exposure) should get tested for COPD.[8] A spirometry test can also tell your doctor how severe your COPD may be (there are 4 stages).
The Importance of Testing
Ignoring symptoms of COPD may cause the disease to worsen, which can negatively impact your prognosis (how long you'll live after being diagnosed). Getting tested can lead to an earlier diagnosis, which can greatly improve your quality of life and your prognosis.
[1] 2014 Surgeon General's Report: The Health Consequences of Smoking—50 Years of Progress. Accessed 4/21/2016.
[2] Blanc, P.D., et. al. Occupational exposures and the risk of COPD: dusty trades revisited. Thorax 2009;64:6–12. doi:10.1136/thx.2008.099390.
[3] Ko, F.W. & Hui, D.S. Air pollution and chronic obstructive pulmonary disease. Respirology. 2012 Apr;17(3):395-401. doi: 10.1111/j.1440-1843.2011.02112.x.
[4] Web MD. COPD and Alpha-1 Antitrypsin (AAT) Deficiency – Topic Overview. Updated 9/9/2014.
[5] Tai, A.S.N., et. al. Pediatric origins of adult chronic obstructive pulmonary disease(COPD): Childhood asthma. (Session A95, Sunday, May 16, 1:30-4:00 p.m., CC-Room 295-296 (Second Level), Morial Convention Center; Abstract 2206).
[6] Hayden, L.P., et. al. Childhood pneumonia increases risk for chronic obstructive pulmonary disease: the COPD Gene study. Respiratory Research. 2015. 16:115. DOI: 10.1186/s12931-015-0273-8.
[7] Kirkham, P.A. & Barnes, P.J. Oxidative stress in COPD. Chest. 2013;144(1):266-273. doi:10.1378/chest.12-2664.
[8] COPD Foundation. Am I at Risk for COPD? Accessed 4/21/16.
By Deborah Leader RN, BSN, PHN