COPD Questions: Frequently Asked Questions about COPD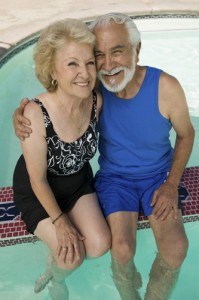 You've just left your doctor's office after being told you have COPD. You're likely to be experiencing a number of different emotions right now ranging from confusion, to fear, to more confusion. Once you arrive home, you realize you were so overwhelmed by the diagnosis, you forgot to ask important questions about the disease and how it will affect your life. You've come to the right place. The most frequently asked questions about COPD are listed below to help you fill in the blanks before your next appointment:
What is COPD? What does COPD stand for?
COPD, which stands for chronic obstructive pulmonary disease, is a long-term, progressive lung disease that makes breathing more difficult. Although the lungs are its primary target, the disease affects other parts of the body as well.[1]
What causes COPD?
Approximately 80% of COPD cases are caused by smoking, but never-smokers can also develop the disease.[2] In addition, COPD can be caused by a rare, inherited condition known as Alpha-1-antitrypsin deficiency. Second hand smoke, air pollution, especially from burning biomass fuels in poorly ventilated homes, and workplace exposure to chemical fumes, dust, and smoke also play a role in its development.1
Is there a cure for COPD?
Although there is no cure for COPD, it is preventable and treatable. By quitting smoking, staying physically active, eating nutritious foods, and following your treatment plan, you may be able to slow the progression of the disease and prevent it from rapidly worsening.1
I already have COPD. What good will quitting do?
That's a great question and one that many people ask. Research supports that smoking cessation is the most effective way of halting or slowing the progression of COPD, which means that quitting at any stage is beneficial to your health.[3]
How does exercise help?
Getting regular, physical exercise is one of the best ways to reduce COPD symptoms. Many people with COPD abstain from regular exercise because it causes breathlessness. This results in an endless cycle of progressive inactivity and worsening breathlessness. If shortness of breath interferes with your ability to stay physically fit, talk to your doctor about enrolling in a formal pulmonary rehabilitation program.1
How can I prevent COPD from getting worse?
COPD is characterized by exacerbations, or periods of worsening symptoms. Exacerbations are the number one reason people with COPD visit the emergency room. Preventing a COPD exacerbation is one of the most important aspects of treatment. This can be accomplished through frequent handwashing, flu and pneumonia vaccines, staying away from sick people, getting regular exercise, and eating a healthy diet.1
Will I have to use supplemental oxygen?
Not all people with COPD require treatment with supplemental oxygen. For those who do, oxygen needs vary from person to person. For example, you may need it all day, every day, or for only part of the day during physical activity or sleep. Your doctor will determine if you need oxygen therapy and how often you should use it.1 Don't forget, Inogen can provide a solution to all your oxygen needs, whether you prefer an in-home unit like the Inogen At Home, or a lightweight, on-the-go solution like the Inogen One G3.
Do I have mild, moderate, severe, or very severe COPD?
According to the Global Initiative for Obstructive Lung Disease, COPD is divided into 4 grades, or stages: Stage I, mild COPD, Stage II, moderate COPD, Stage III, severe COPD, and Stage IV, very severe COPD. Which stage you're in is determined by a breathing test called spirometry. Treatment options vary depending upon the severity of the disease, but may include implementing lifestyle changes such as smoking cessation, eating right, and increasing physical activity, flu and pneumonia vaccines, medication, including bronchodilators and steroids, pulmonary rehabilitation, supplemental oxygen, and lung surgery.[4]
How long will I live now that I'm diagnosed? What's the life expectancy with COPD?
Although no one can predict how long you'll live after a diagnosis of COPD, some scientists rely on a tool known as the BODE Index to predict survival. The BODE Index measures a number of different factors that are thought to be associated with COPD life expectancy, including whether or not you quit smoking (if you're a smoker), your tolerance to exercise, your degree of lung impairment, how much body fat you have, and the severity of your breathlessness. Luckily, smoking cessation and pulmonary rehabilitation have been found to increase survival in some people with COPD.[5]
I've never smoked or quit 20 years ago. How can I have COPD?
As we mentioned in question #1, smoking isn't the only cause of COPD: secondhand smoke, genetics, air pollution, and workplace exposure may also increase your risk. Additionally, because COPD is progressive and symptoms may not be evident in the early stages of COPD, people who quit smoking years ago can still develop the disease.1
Will lung surgery help me feel better and live longer?
 Surgical options for COPD include bullectomy, lung volume reduction surgery (LVRS for short, performed invasively or with a bronchoscope), or lung transplant. Only patients in the very advanced stages of the disease who meet strict criteria may be candidates for lung surgery. LVRS and lung transplants may prolong life and improve quality of life for a select group of patients.[6] For more information about COPD and lung surgery, talk to your doctor.
[1] Web MD. "COPD (Chronic Obstructive Pulmonary Disease) – Topic Overview." Accessed February 25, 2015.
[2] U.S. Department of Health and Human Services. "The Health Consequences of Smoking—50 Years of Progress: A Report of the Surgeon General, 2014."
[3] Tashkin, DP and Murray, RP. "Smoking cessation in chronic obstructive pulmonary disease." Respir Med. 2009 Jul;103(7):963-74. doi: 10.1016/j.rmed.2009.02.013. Epub 2009 Mar 14.
[4] "Global Strategy for the Diagnosis, Management, and Prevention of COPD." Global Initiative for Obstructive Lung Disease. 2013.
[5] Ong K, Earnest A, Lu S. "A multidimensional grading system (bode index) as predictor of hospitalization for COPD." Chest. 2005;128(6):3810-3816.
[6] National Heart, Lung, and Blood Institute. "What is a Lung Transplant?" Updated May 1, 2011.
by Deborah Leader RN, BSN, PHN